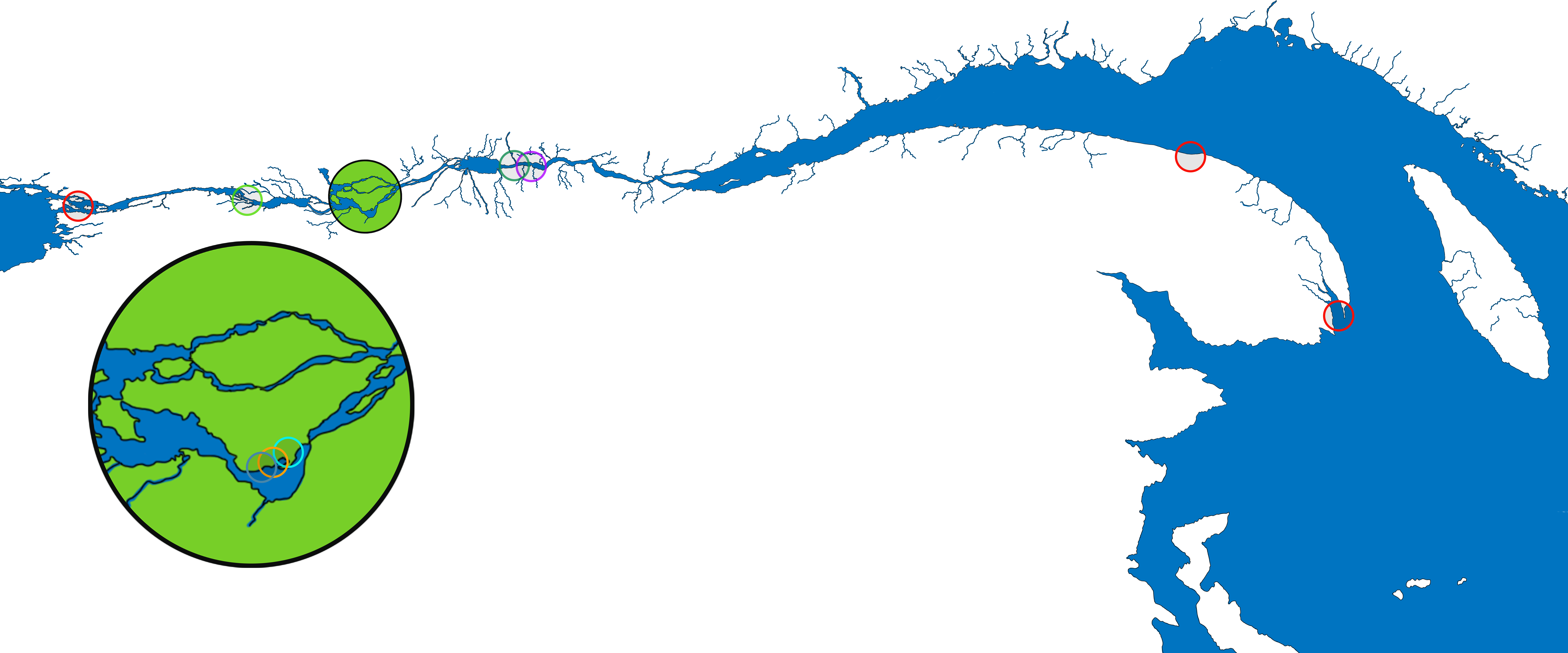 Map of the St. Lawrence River indicating project points. Designed by Tricia Enns.
EN/
Our team-based research initiative works across art and science to explore the St. Lawrence River | Kaniatarowanenneh as a biodiverse, dynamic ecosystem and beloved communal and personal imaginary. Using the arts, oral history methods, and public outreach, the projects of Learning With the St. Lawrence (LWtSL) aim to generate understandings of the complex realities at play in the St. Lawrence both adjacent to Montreal and along its 1200-kilometre flow from Lake Ontario to the Gulf, in order to enhance citizens' awareness and engagement. LWtSL integrates multiple forms of knowledge and explores the potential interdisciplinarity holds to addressing dynamic and complicated social issues.

Our team includes artists, filmmakers, curators, environmental scientists, students, and interested members of the public who engage individually and collaboratively to generate knowledge, raise awareness, and even promote advocacy for the River and its diverse species. Collaborators contribute to the initiative in the languages of their choice, with this site's content reflecting those preferences. LWtSL initiatives are supported by the Concordia University Research Chair of project initiator Dr. Kathleen Vaughan and the Social Sciences and Humanities Research Council of Canada.
Notre équipe est composée d'artistes, de cinéastes, de commissaires, de spécialistes de l'environnement, d'étudiantes et d'étudiants et de membres intéressés du public qui s'engagent individuellement et collectivement à générer des connaissances, à conscientiser les gens et même à promouvoir la préservation du fleuve et de ses diverses espèces. Les personnes qui participent à l'initiative le font dans la langue de leur choix, et le contenu de ce site est conçu en fonction de ces préférences. Les projets s'inscrivant dans l'initiative Apprendre avec le Saint-Laurent sont subventionnés par la chaire de recherche de l'Université Concordia dirigée par l'initiatrice du projet, la Pre Kathleen Vaughan, et par le Conseil de recherches en sciences humaines (CRSH) du Canada.

We acknowledge that the St. Lawrence River flows through unceded Indigenous lands and that many First Nations are the custodians of these lands and waters. Further, we acknowledge our debt to the natural world of which we are a part and which is the source of all life. We undertake our work with reverence for these Others.
Nous reconnaissons que le fleuve Saint-Laurent traverse des terres autochtones non cédées et que de nombreuses Premières nations sont les gardiennes de ces terres et de ces eaux. En outre, nous sommes conscients de notre dette envers le milieu naturel dont nous faisons partie et qui est la source de toute vie. Nous accomplissons notre travail dans le plus grand respect de ces Autres.